Absolutely Amazing Camping Spots in Canada
2 min read
Canada is an amazing place for people who like to rough it up in the great outdoors. The thing is that Canada is cold, so it presents an additional challenge to those that want to try camping in the truest sense of the word. Where in Canada should you do it? Here are a few spots that come to mind.
Sandy Beach Campground, Alberta
When you say 'nature' in the context of going outside, you either think of a forest, a large body of water, or a mountaintop. Now, imagine if someone combined all three and told you that there was a perfect place for you and your loved ones. You can hike, explore the grounds, kayak, and camp out by the lake. Whether you have a tent, RV, or are looking to rent a cottage, Sandy Beach Campground is one of the better options Canada has to offer.
Pacific Rim National Park, British Columbia
The beach that goes on and on, combined with the beautiful horizon and the campsite that is just outside the water's reach. This is perfect for combining camping with going to the beach. In other words, some people may use it as a compromise between different vacationing options. The great thing about it is the fact that you can get away from others if you choose to do so. You can make it so that you feel almost completely alone – just you and the Pacific. If you don't like swimming in the cold water, though, we would urge you to skip this option. Though, there are other activities you can still enjoy, like just listening to the waves, or whale-watching.
Waterton Lakes National Park, Alberta
Camping enthusiasts might get confused at the prospect of camping in the middle of a town. However, this is a very small national park, so you can still experience camping with the safety of civilization close-by. There are several hiking trails, you can revel in the splendor of the lakes, and there is a chance of getting your hands on some tasty homemade jerky.
Gros Morne National Park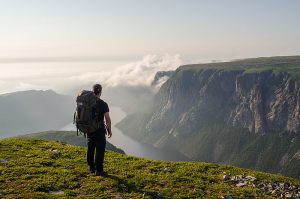 This is another place where you can enjoy camping. The open spaces before your eyes make a UNESCO heritage site. If you think that the name is a bit weird, it comes from the second highest peak in Newfoundland and it roughly translates to "Large Mountain Standing Alone". It became a National Park Reserve in the 70s and has been a national park since 2005, making it the second-largest national park in the region.
In terms of wildlife, you are likely to find the moose, the arctic fox, lynxes, and beavers. One of the most popular activities is hiking the trails and, if that's not your thing, there are many art festivals you could attend. The park is also the home of the Western Brook Pond, the cleanest natural body of water on the planet.