Best Cycling Destinations
3 min read
Where is the best place to ride your bike? Some people only value a few tracks in the world as being truly worthy of riding on. Others tend to focus on their local options. As for us, we've searched the forums, chatted with strangers, and took a few trips to give you our take on the best cycling locations in the world.
Burma
Why would someone want to go to Burma? Well, cycling is still relatively new there, so it is very likely that you will not have to suffer going through a crowd. Find a cycling group or agency you trust and book a trip. The routes are not demanding, the scenery is great, and you can even use the bike to take a look at the temples. Be warned, though. Depending on your location, you may need a visa.
Vietnam
This is not for the faint of heart. To be more precise, it is not exactly suitable for people with heart conditions. Vietnam is very hot and humid, so unless you can handle it, you'd best sit this one out. Otherwise, you are welcome to join the locals between Saigon and other places. The flat terrain is great for casual riding and there are quite a few beaches and interesting sites.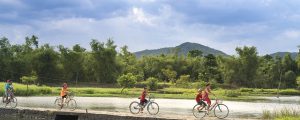 Danube
You can follow one of the largest rivers in Europe and do so through several countries, including Germany, Austria, Hungary, and a few others. Now, doing the whole course is more challenging than running a marathon, so you should do well to pace yourself. Depending on the size of the course you set for yourself and your friends, as well as the daily pace, the trip can take anywhere from two weeks to several months.
France
This is where the cyclists are welcomed and appreciated. After all, it is where the famous Tour de France is held. Urban cyclists will have no problems navigating through the streets of cities and towns and if you prefer the countryside, France will happily oblige. Make sure you pop over to Provence, where the landscape will challenge you without breaking you down. Great wine, cheese, and art are also present if you want to make a holiday out of it.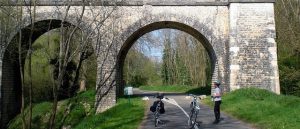 Mexico
It may surprise you, but Mexico has a few interesting places where you can ride your bicycle and enjoy the climate and the view. It is a very relaxed country, so you should feel yourself unwinding as you travel across it. A word of caution, you may want to steer clear from the American border. There could be a few security issues. Other than that feel free to enjoy the country's culture, routes, and food!
Kerala
A state in India is famous for cycling. The routes are relatively easy, with the option to step it up. While the rest of India is fast-paced and really difficult to navigate through, this state is very laid back. You can cycle any time you like, as long as it's not between May and October, as the monsoon season may prove to be more than you bargained for.