Great Apps to Kill Time While Traveling
3 min read
So, you've watched every interesting video on YouTube and you left your games behind. You could listen to an audiobook, but you simply don't have the energy to invest yourself in the story. To top it all off, you are bored out of your mind, and there is no indication that the trip will end any time soon. There are amazing apps and fantastic games that are free, so you can enjoy them without spending any money. What app can you download to take the boredom away? Here comes the review!
OpenTalk
Do you want to talk to strangers? Because that's exactly what this app lets you do. It allows you to connect to over a million other users and even add them as friends. The audio and video chat can be a bit unstable if you are on the road and the internet signal is not the strongest. Other than that, this is a great app to meet people and kill some time before your next stop.
What If
This is a hypothetical game where you get something, but there is a price to pay. For example, what if you received a million dollars, but couldn't spend them for the next five years? After you give your answer, you are given the statistics of how many people shared your sentiments. There are similar games and apps to this, including "Will You Press the Button?"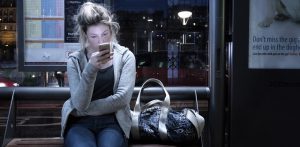 Bubble Wrap
There's something hypnotizing and soothing about popping the bubbles wrap. However, it is hard to do without any bubble wrap at hand. This app is the perfect tool for relaxation, as the bubbles will reappear and the app will grant you new ways of popping them.
Duolingo
Do you want to be productive on the road? Try learning a new language. Duolingo turns language learning into an RPG experience. You learn new words and phrases, level up, and challenge yourself. When you are done learning a language, you can simply switch to another one. The only potential downside to this free app is its persistence in reminding you that you should have a lesson or two soon.
Path of Adventure – Text-Based Roguelike
Textual RPGs give you all of the adventures without the graphics. You need to use your imagination. This game is perfect for people who enjoy playing Dungeons & Dragons and other RPGs. Fight monsters, avoid traps, use weapons, collect treasures, upgrade your characters, and move on to the next challenge. Playing the games can be somewhat addictive as you get sucked into the fantasy world. However, if you are not into this genre, it's better to give this app a pass. It's free to play with some options you can purchase, like redoing some of your choices and getting resurrected.
Sudoku
There is a ton of Sudoku apps on the market. If you are unfamiliar with the game, it comes from Japan and it consists of filling out the blank spaces in boxes with numbers. No same number can be in a box, row, or column, meaning that there's usually just one solution, especially when the levels get harder. It is a great game that exercises your brain in addition to providing entertainment. Start with easy puzzles and work your way up to the more challenging ones.