Kid-Friendly Gadgets for the Road
3 min read
We are not going to talk about the phones and other things that'll distract your child (well, not only about that, anyway). The focus of this post is the collection of gadgets that make a parent's life easier when traveling. Here are a few things you should consider getting.
Foldable Diaper Bag
Sometimes, you have to change the dirty diaper on the road. It's a hassle, but it needs to be done and not all public bathrooms have changing stations (especially in bathrooms for guys). You are forced to change your baby on a table, car seat, or wherever, and logistics present a problem. There is a diaper bag that doubles as a changing mat. Just unfold it, do your business, and fold it back up.
Electronics
This should be used sparingly and not at all with toddlers. However, watching a movie or a cartoon, or playing a game will keep your child entertained for a while. You may be tempted to abuse this power, but you must resist the urge. If your child is using electronics, try to make at least one parent involved, if possible. Educational games are preferable, though, at a certain age, they no longer have the same appeal as traditional games.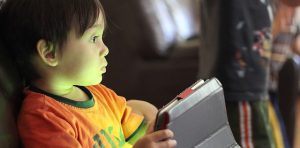 Games
There are now hundreds of different card games you can buy, like Uno. These games have relatively simple rules and humorous illustrations. For the road, avoid trading card games, as they get updated all the time and it's hard to keep up. We recommend Uno, Wazabi, and Bang!
Board games are hard to set up in a vehicle in motion, but they are great for the place where you are staying. Discuss these toys with your kids and make sure they are age-appropriate. For example, Munchkin has been known to have a few jokes that are not suitable for children, though this could be remedied by removing the questionable cards. The same goes for Gloom, a game where you try to make your deck as miserable as possible. If you are not at all comfortable with these, skip the – there are plenty more.
Smart Watch
While we have written about electronics in one of the previous paragraphs, the reason for this item getting on the list is different. While this smart watch does have games, the feature that secured it its own spot here is the one that allows your child to call you in an emergency. Granted, you would have to buy a separate SIM card, but knowing that your child can reach you is priceless. By pressing the SOS button, the watch is set to call three numbers, one after the other, a few times before someone answers. Check the market and find the best option (Amazon has a few smart watches with this feature).
Headphone Splitters
Do you have two or more kids that can't settle on whose turn it is to watch something quietly? Headphone splitters allow two (or more, depending on the product) pairs of headphones to be plugged into the same device. There will be a tad less kicking and screaming over who gets to use the tablet next.